Guest Blogger: Chelsea Pullano
After Attending a truly entertaining production of Stephen Sondheim's Sweeney Todd at the Pennsylvania Shakespeare Festival .....decided to do some research on its' famed locale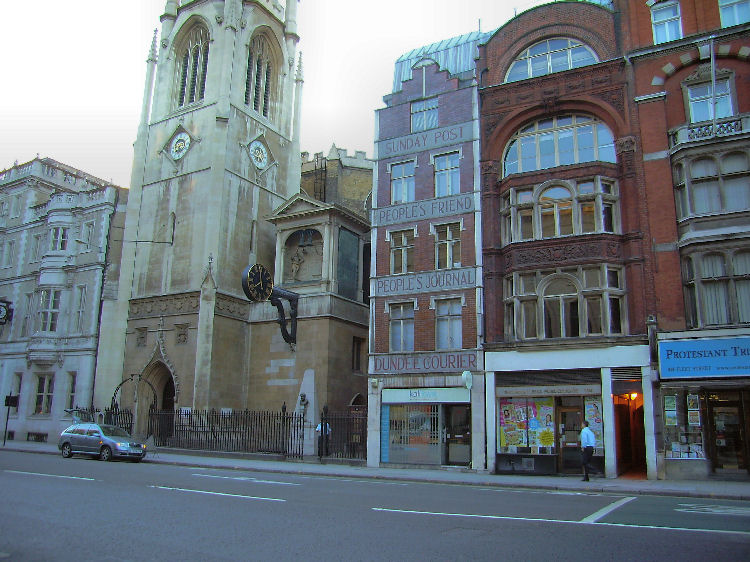 Stephen Sondheim's Sweeney Todd is based in the city of London, particularly on Fleet Street. Fleet Street is named after the River Fleet, the largest underground river in London. It was the origin of the British newspaper, and continued to be home to it up until the late 20th century. Reuters, the last major British news office to occupy Fleet Street, departed in 2005. However, to this day the name of Fleet Street is representative of the British press.
Fleet Street has retained its name for many hundreds of years. It was known as Fleet Bridge Street as early as the 1200s, and was known as simply Fleet Street by the following century. While the spelling has altered with the changing of the English language, the pronunciation has remained constant these many, many years. When it was first built, Fleet Street ran between the commercial city of London and Westminster, the political hub of the city. The East end of the street was marked by the River Fleet (which ran against the walls of the city), and the West end were the city limits of London (today marked by the Temple Bar). The size of the city prior to its expansion in the 14th century is marked today by the start and end of Fleet Street.
Fleet Street became a publishing center around the year 1500, when William Caxton's (the first to introduce a printing press t0 England, and the first English retailer of printed books) apprentice, Wynkyn de Worde, set up a print shop and Richard Pynson (one of the earliest publishers of English books) there. In March of 1702, The Daily Currant, London's first newspaper, opened and began publishing from above an Inn on Fleet Street.
Besides its publishing business, Fleet Street was also noted for its taverns and coffee houses. Many notable men, such as Ben Jonson, John Milton, Izaak Walton, John Dryden, Samuel Johnson, Edmund Burke, Oliver Goldsmith and Charles Lamb, either lived on Fleet Street or frequented to taverns there.
Today Fleet Street is known for the law and its Inns of Court and barristers' chambers. Many former offices of newspapers are now the offices of important financial or law companies. As recently as 2006, a few newspaper companies (most notably the Press Gazett) returned to Fleet Street or streets nearby. Besides Sweeney Todd, Fleet Street is also portrayed in a number of other fictional pieces, most notably Charles Dickens' A Tale of Two Cities and Evelyn Waugh's Scoop.